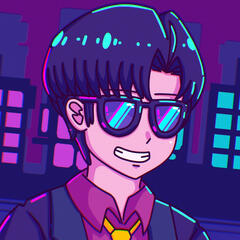 Lez
Is not available 3D vtuber commissions!
---
VTUBER MODEL COMMISSIONS: CLOSED
0/2 SLOTS AVAILABLE
---
WORKS
---
---
TERMS
---
No NFT/NSFW.

The model is for avatar/vtuber use only.

I prefer to work with my own art style.

I'm still not the best at making muscular-type characters. I may decline if the character has to have them exposed.

Communicate promptly.

Do not use the WIP/incomplete paid model commercially (Streaming/Video Content).

No major revisions (eg. Body changes after approval).

Provide a complete character sheet and gallery, as well as the character backstory if it's connected to the design.

I will strictly follow the design from the character sheet.

I am allowed to share the WIP of the commission on social media unless otherwise discussed.

I have all rights to share the finished work on my socials after project completion unless otherwise discussed.

If accepted, I will reply via email to discuss things further.

In case of commission cancelation, I will keep the downpayment.

Do not distribute any of the original or edited digital files commissioned from me.

Do not resell any of the original or edited digital files commissioned from me.

Do not claim/credit the commissioned 3D artwork as your own work.
---
---
PACKAGE
---
VRM/VSFAVATAR files.

5 free VRM toggles of your choice.

Unity project source files.

Blender source files.
---
---
PRICING
---
Starts at $1500 USD. Price change may vary depending on the design complexity.

The payment method is via PayPal in USD only; 50% payment to start and 50% at the end. The Paypal fee will be included.

Only 5 revisions are free, extra revisions require additional charges.
Addons
| Addon | Price | |
| --- | --- | --- |
| New Outfit | $700 | Price change may vary depending on the complexity. |
| ARKIT blendshapes | $500 | iPhone blendshapes. |
| VSF animated Toggles | $100 | Anything doable within VSF limitations. Price may get lower or higher depending on the complexity. |
| VRM Toggles | $50 | Anything doable within VRM limitations. Price may get lower or higher depending on the complexity. |